1. Models Own - Ice Neon in Bubblegum.
I have been after a neon pink nail polish for weeks now and I couldn't find the perfect colour, I don't usually purchase the Models Own range but when the Ice collection was recently released and I saw this colour I fell in love! I hope to purchase this product as a friend highly recommends the Models Own range. Priced at £5 each, the Ice Neon box set is priced at £20 for all 5 polishes in the range. Other colours in the range are; Pukka Purple, Pink Punch, Luis Lemon & Toxic Apple.
2. River Island - Gold tone chunky curb chain necklace.
Chunky jewellery is a statement piece in anyone's collection, for ages now I have been searching for a chunky gold necklace and this is perfect! Wearing this necklace can automatically dress up an outfit, it's a bold piece which can be paired with so many different outfits. If anyone knows of anywhere which sells a similar necklace to this or any other statement pieces which will be key for this years trends please comment down below - thank you! This necklace is priced at £12.
3. River Island - Green textured skater dress.
I love skater dresses! They're so flattering, lately I purchased a basic skater dress from New Look which I love, basic skater dresses you can really dress up or dress down, they're perfect for any time of the year. This green dress is great, I always buy black clothing even though I love bright colours so this green dress is perfect for spring/summer to brighten up my wardrobe. It has short sleeves which are rolled up with a rounded neck. On a recent trip to Sunderland I saw this in the store, I never got the chance to try it on as it was so busy but the texture of the dress is unusual but really nice! The dress is priced at £32.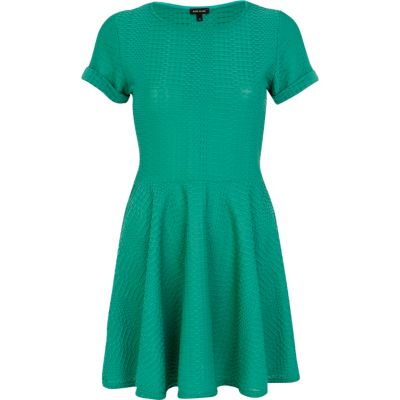 Although this is a very small wish list I hope you all like my choices.